Review of Omnisphere
The best gets better
by TweakHeadz Lab
Spectrasonics Omnisphere Software Synth (Mac and Windows)
After many years of development, Spectrasonics is proud to release the brand new flagship virtual instrument Omnisphere. This epic 'Power Synth' breaks completely new sonic ground by combining a wide variety of hybrid realtime synthesis techniques, an epic library of remarkable 'Psychoacoustic' sounds, and many innovative features that have never been seen before in any hardware or software synthesizer. The new instrument is the first to be based on Spectrasonics newly developed STEAM Engine.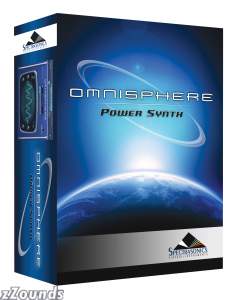 I purchased the Omnisphere upgrade within the first few days of its availability. Yet I had not installed it thinking I was going to go with a new Mac Pro, and my G5 did not meet the stated requirements of a 2.0 ghz processor. Then the recession hit and the new Mac Pro is probably going to have to wait. But I was just dying to run Omnisphere. Tonight I tried it after adding a new Western Digital "MyBook" 1TB Firewire 800 external drive. Why? Omnisphere has a 50 GB sound set. I was out of room! The installation was painless and perfect. Omnisphere is installed and working on my G5 1.8Ghz and its working well enough to use. Just a little heavier than Atmosphere.
Speaking Overall
Omnisphere gets high marks. Omnisphere goes much deeper than Atmosphere. Perhaps the main thing of note is that it has many more sounds and is 8 part multi-timbral per instance. Much like a hardware synth, you can decide to build a multi with 8 parts on 8 different midi channels or in "Stack mode", where 8 parts are all on 1 channel for a monster performance preset. You could not do this in Atmosphere, and it instantly gives you access to new ways of working with these sounds that can improve your music. Omnisphere also adds an FX engine. Finally, there is now an arpeggiator that will lock to your sequencer's tempo, that is user editable. As with the other Spectrasonics plugins, you can only use Omnisphere as a plugin. There is no standalone version.
I found Omnisphere dead simple to use, though that may be due to my familiarity with Stylus RMX. In fact, the mixer screens look quite similar. I can imagine a day where perhaps Stylus and Trinity modules are loaded in Omnisphere. The mixer and preset browser engine seems to be designed with the future in mind.
See all the Omnisphere Podcasts at:
http://www.spectrasonics.net/omnisphere_teaser/explore.html
A Little History
I will admit, this, before we get into it, that I simply Love Eric Persing's work. Eric did a lot of work for Roland, as Chief Sound Designer from 1984-2005. He formed Spectrasonics in 1994. If you have ever owned a Roland synth, from the early analogs through the D-series, JV and XV and Fantom series and V-synth you have heard the influence of Eric Persing and sounds he has directly sampled and programmed. I've followed a few sound developers in my time and I can tell you that Eric has the gift. His sounds are just so...right. Bold, straight, up front and able to be mainstreamed yet dripping with emotion, attitude, and secrets when you listen close. When you LOVE sounds like I do and you hear the work of Persing it just puts you in awe. His early products under Spectrasonics include Distorted Reality 1 and II, Symphony of Voices which began as Akai/Emu sample Cd roms. Later on Eric added Metamorphosis, which explores some of the evocative regions of sound we seldom hear. That is what led to Atmosphere, which went straight to the core of "new age" "industrial" sound development, with its focus on the atmospheric qualities, basses and leads of many different analog synthesizers, mixed in with a smattering of samples and a great string patch, some choirs, and noises.
Unfortunately when the Intel Macs hit town, Atmosphere, with its UVI sound engine, was no longer compatible. The answer has finally arrived with Omnisphere, which is PC, Mac PPC and Mac Intel compatible. By doing the upgrade, Intel Mac users get all the patches of Atmosphere back, plus all the new Omnisphere sounds in the new engine.
Sound Library
The library is broken down into 4 parts: The Atmosphere Library, The Omnisphere Library, "A Taste of Omnisphere", which appears to demo the synth's deeper capabilities, and the "User Library" where you can store your own tweaked patches and multis. The new browser allows you to search by Category, Genre, Complexity and Author. Kind of Kore-like, but not as detailed, or as CPU heavy. This browser is optimized for speed and simplicity, which is a good call, given all the other complex things we have to attend to these days when building a song. The good thing is that the browser makes it appear there are not that many sounds in the collection, but as you open it up, you realize this thing is VAST. Its also great that you can add your own keywords, put your self in the "author" list (so you can find all your stuff easily).
The sounds themselves are are interesting. While there are some "traditional" instruments, like the great strings from Atmosphere, some Rhodes EPs, some guitars and of course synth basses, you aren't going to find a clean piano or the rest of the GM orchestra set here. The emphasis here is more on sounds that will spark the imagination. There is a whole category of "Retro Underground" sounds with samples of old 70's stuff. The Category of "Psychoacoustic" shows a lot of Omnisphere's attitude, like the patch "Timefreezing the Fisherman's Daughter". Lol. I know these guys are deep in the journey towards sonic enlightenment and ecstasy. Trance composers are going to like the Classic Synths; hip hop composers will like the analog strings and brass; ambient composers--the mothership has just docked into port.
Effects
Omnisphere has a similar FX engine as Stylus RMX, though there are 6 more FX added, most notably the "Smoke Amp distortion" a formant effect and a vintage sounding chorus, flanger and echo. This is a powerful FX engine. You can place the effect in the patch, on any of 4 busses, or on the Master Bus. Given the quality of the compressors and eq, as well as the other stuff, you could do a great mix inside Omnisphere without using any other plugins.
Omnisphere's Mixer in Logic (click to enlarge)
My Test
My first test was a 7 track multi timbral phrase in Logic, with nothing else running. My G5 was able to take 7 tracks, with about average polyphony, before clicks and pops appeared due to the strain on the CPU. Again my computer is under the stated minimum requirements, so i think that this is not too shabby. I can easily bounce to audio or freeze at anytime to free up resources. In fact, I find Omnisphere less consumptive than NI's Massive.
Things I like, a lot
There is so much here to talk about. i could give you a paragraph on each of the things below, but hey, I am in the middle of making music as I write. So here are some short shots.
The samples in this synth are phenomenal. Just go through the categories, Composite Morphing, Distortion, Human Voices, Oneshots and Psychoacoustics, Retro, SFX and Noise, Synthesizers, Textures and Traditional. In each are sounds you would not expect. Including the now infamous piano on fire. Its a fantastic audio playground for sound creation.
The Filters. Filters by the truckload, and they are groovy the way you like, with names like "Colorful Resophaser,", "Series Throaty LP12s", "Rich and Moogie3". They sound like they are named.&
Arpeggiator--great stuff here. It locks to your sequencer's tempo. Works well, not a terrible CPU hit either.
Things I want to see improved
The Visualizer--sort of a realtime spectrum analyzer tool. Its really just a toy, does not do anything meaningful that I can tell.
I hope they add the capability to load User samples, or possibly let users upload patches.
A less than overprotective license agreement. Let sound developers own their own creations in Omnisphere and be able to re-sell them.
How Omnisphere fits in the scheme of things.
Can you ever have too many soft synths? The answer is probably yes, if you want to learn them. Omnisphere wins, with no contest, the ability to make synth pads, but its right up there with other soft synths in terms of being a creative, inspiring analog/FM type Multisynth. Omnisphere poses a challenge to Absynth, Albino, Massive, FM8, MX4. Of course ever synth is different, but these compete for my attention if I need an arp, a lead, a pad, something analog-ish, something FX-ish.
Of Special Note
Those who had Atmosphere or other Spectrasonics soft synths should check their site to see if there are any upgrade deals.
Best of Luck in your craft,
Rich the TweakMeister, Dec 2008, Updated July 2009
Threads
Feedback
You can leave feedback on this article Here:
http://studio-central.com/phpbb/viewtopic.php?f=32&t=67613&p=451221#p451221
Links
More Videos
http://en.audiofanzine.com/virtual-sampler-sample-player/spectrasonics/Omnisphere/medias/a.play,m.1615.html
Tweak's Articles on Software
Software Synths and Samplers INDEX
Understanding the Virtual Studio
What is a Software Sampler?
What is a Soft Synth?
What are Software Processors?
Atmosphere
Spectrasonics Omnisphere
Spectrasonic's Trillian
Superior Drummer
My Favorite Vintage Soft Synhts
Stylus RMX
Battery by Native Instruments
MOTU BPM
Albino 3
Intakt
Guru Review
StormDrum Review
Reaktor
Korg Legacy MS20
Garritan Personal Orchestra
Altered States
Massive
FM7 and FM8
NI's Komplete Bundle
MiniMoogV
MOTU's Ethno
Are Hardware Samplers Obsolete?
MOTU MX4
Absynth
Antares Filter
Logic's EXS24 Sampler
Kore
Kore 2 Review
Kontakt
Kontakt 3
Waves Gold and Platinum
Software Plugins Price List