Hot New Products
in the Pipeline
10 Years of New Product Announcements at Trade Shows
To buy the right piece of gear for your studio you have to do your research. Which pieces of gear will your studio most benefit from? Which can you buy now and what should you wait for? To really answer these question, you need to know what's up and coming. This also gives you a hint on products that may be discontinued soon, so you know where to look for great deals and blowouts. Here's direct links to manufacturers websites where the tout their new gear. I'm not going to link to every product announced at Trade shows. Just the ones the Tweak thinks are forward thinking, potentially groundbreaking and of course, totally, unforgettably COOL!
Winter Namm 2010 Anaheim CA
Allen & Heath iDR-16 3U MixRack And Allen & Heath iLive-R72
Allen & Heath announced two new models for the iLive digital mixing series: the iDR-16 3U MixRack and the iLive-R72 rackmountable control surface. Together, the new models make for a lightweight digital live mixing system. Tweak: its hard to miss the commonalities with the Presonus Studio Live. I like this direction, and would love to see an audio interface/control surface/digital mixer in this format.
Mackie Onyx 1640i 16-Channel Premium Analog Mixer with FireWire Interface
The 16-channel Mackie Onyx 1640i FireWire Recording Mixer combines the benefits of a powerful 16X16 FireWire interface with the hands-on control of premium analog features like 16 Onyx mic preamps and Perkins EQ. Plus, it's qualified by Mackie for use with all major DAWs, including Pro Tools M-Powered 8 (upgrade required*).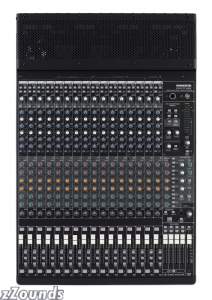 Tweak: This has got to be one of the best innovations in mixer and audio interfaces of the show.
TC Electronic Impact Twin Firewire Audio Interface
Impact Twin is a brand new, state of the art audio interface that features ground-breaking technology to ensure that the music you record sounds as good on the inside of your computer as it does on the outside. You get a high quality and very flexible mic preamp, superior 24/192 HD Conversion, plus a set of recording Channel Tools that lets you shape and optimize your sound making it the perfect recording. Tweak: TC makes another stab at an audio interface. Available now at zZounds. What is cool here is the price. The Impact Twin is the lowest cost audio interface to offer ADAT i/o (under $400). 4x4 analog. 2 phones (nice) and MIDI.
Korg WaveDrum Dynamic Percussion Synthesizer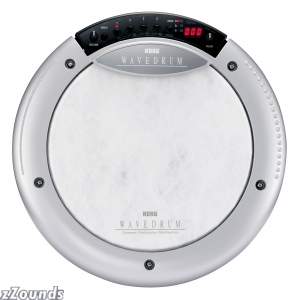 The original Korg WAVEDRUM amazed the music world back in 1994. This legendary musical instrument was famous for its sounds. Well, guess what, the new next-generation WAVEDRUM is here today and ready to make musical history. Tweak: I have a lot of samples from the original Wavedrum in various collections. Its unique sounding. Here's a quote
"Analog, non-linear, and physical modeling are just a few of the synthesis methods available, and they offer you a wide range of sounds, from unbelievably natural-sounding percussion to full-on synthetic sounds. The WAVEDRUM also includes a PCM sound engine with 200 velocity-switchable sound samples, divided between head and rim tones. This dual-engine method of sound creation offers a rich variety of tones and sounds to all levels of player."
Hmm. Nice! The Wavedrum is available now at zZounds. Do I want one? You bet your twittering tweakhand.
Lets do some video on this.

KORG KAOSSILATOR PRO

Dynamic Phrase Synthesizer/Loop Recorder
In 2008, Korg introduced the Kaossilator, the palm-sized dynamic phase synthesizer / loop recorder that allowed anyone, even people that don't know a track from a hole in the ground, to create unique musical sounds, phrases and loops just by moving their finger across a touchpad. The larger, more powerful Kaossilator Pro takes it to a whole 'nother level, including tons of new features and capabilities for live performances and professional production, including 200 sound programs (with both electric and acoustic sounds), a new gate arpeggiator, PCM drum samples, and four loop recording banks that can even record from external sources. While the X-Y touchpad is great for creating and controlling dynamic tracks for live performances in real time, the simple USB connectivity and SD card memory storage help it double as a powerful production tool in the studio. Tweak: I like the original Kaossilator. This one looks even better, though a bit less on the portable side, its a bit more on the professional side. And who can deny that it will look really cool with the touch screen and moving lights. Who needs lava lamps when you can put a couple of these around.
AKAI MPD26
The producer's instrument
Put up to 64 sounds right at your fingertips - four from each of the MPD26's 16 pressure and velocity-sensitive MPC pads. Akai's new MPD26 introduces the feel of classic beat making to modern music production, including all of the technologies (such as MPC Note Repeat, Swing, Tap Tempo and Full Level) that made the MPC electronic musical instruments the industry standard they've become. And far from being just another simple pad controller, the MPD26 features assignable Q-link controllers, so you can control just about anything in your DAW with the MPC pads. Sound complicated? It's actually not -- just plug the USB cable into your Mac or PC and you're ready to get to work. It even comes with Ableton Live Lite and Editor Librarian software to get you started. It's powered by USB, so the USB cable is the only cable you need. Tweak: Exit the MPD24, Long live the MPD26.
CAKEWALK A-Pro MIDI controllers
Cakewalk has announced a new line of keyboard MIDI controllers, the A-series, including three A-Pro models. Each has been developed in conjunction with Roland, mixing Cakewalk's user-friendliness with Roland's professional-quality engineering. The rounded keys feature selective velocity curves, so you can adjust them to your playing style, and are built with Roland's own Fast Processing Technolgy USB driver to get every nuance of every note you play. Each of the Pro series controllers also features 8 sensitive pads for finger drumming, plus over 45 assignable controls, including knobs, sliders, and buttons. Editing software for both Mac and PC is included, making the A-Pro models perfect for the studio, the stage, or playing on the go. A lighter, inexpensive model, the A-500S, is also available. Tweak: Remember now that Cakewalk is wearing Roland 's bedclothes these days. And yes, Roland knows how to make keyboards.
Korg Sound On Sound (SOS) Unlimited Track Personal Recorder Debuts

When Korg ships its new Sound On Sound recorder in April, everyone will be jumping ship to send out for an SOS. With all-in-one recording tools, effects, free software, and more, the unlimited-track, handheld recorder appears to beat out all other multitrack or portable recorders out there.
Tweak: Interesting that no one did this before. Who says an MTR has to have a fixed number of tracks? Software quit doing that 15 years ago. Now you can have 17 tracks of car horns in your next opus, 42 shopping cart collisions, 19 looped samples of the Ex significant other telling you to [bleep] off...oh the possibilities ARE endless.
True Sytems PT2-500 Modular Mic Pre
The True systems PT2 500 is a mic preamp in "lunchbox" format. It offers 70db of gain making itmnuseful for ribbon mics as well as dynamic and condesner microphones. Its expected price is $695 US. Tweak: True systems is known for great sounding preamps at a reasonable price. I expect this will do well with the lunchbox crowd.
Roland is a practiced hand when it comes to one-piece electronic drums, and so we're excited to see the arrival of their newest model, the Octapad SPD-30. As the name would suggest, the SPD-30 features eight discrete trigger pads with superior dynamic response. The super-responsive pads feature serious consistency and no crosstalk. The Octapad features Roland's renowned collections of sounds - 50 kits, and hundreds of drum and percussion tones.
Tweak: I'd love to own one.
Yamaha DTX900K Electronic Drum Kit

The DTX900K is a 5 Piece drum set featuring the new DTX-PADS with a 12 inch Snare Pad, 3 x 10 inch Tom Pads and the 12 inch Kick Pad. For the cymbal pads the DTX900 features a 15 inch Cymbal Pad and 2 x 13 inch Cymbal Pads designed to give natural feel and sway of a cymbal all with the 3 zone function so that you can play the Bell, Ride an Bow independently, these cymbal pads can also be choked. To complete the set is the 13 inch hi hat Pad which is controlled using a real hi hat stand with the pad moving up and down to allow for fine control over the range of sounds, you can even play foot splashes. These pads are mounted on the sturdy and compact RS130 drum rack
Tweak: Roland also has a new E-kit out, the TD12kX
Roland TD12KXS V-Stage Electronic Drum Kit
A new Taurus pedal that actually works? What a concept! I know you don't believe it so here is a video stolen with permission from Gearwire

Since 1972, Roland has pioneered many groundbreaking technologies and "world's first" products. In recent decades, no family of Roland instruments has won more respect and acclaim than the revolutionary "V" series: V-Accordion(R), V-Bass, V-Drums(R), V-Guitar, and V-Synth(R). Today, Roland proudly announces the next chapter in the V legacy... the V-Piano. Throw away all preconceived notions of what a digital piano was and is. This instrument changes everything. Tweak: You can now download 4 new V-Piano models. Watch out now, the V-piano models are starting to trickle down into reasonably priced boards. In fact if you go to this page they will be showing up soon

Roland VP-7 The vocal Designer engine from the V-synth GT and the VP7700 is now in an easy to add on box
Tiptop AudioZ-DSP Modular Synthesizer
Want to know where the true Tweakz are? Check out this video!