Review of Kontakt
A Soft Sampler by Native Instruments
by tweak
Pros
Flexible and friendly interface
Works with Cubase, Logic and Sonar
Cheaper than a hardware sampler, yet with more powerful programming options
Cons (Version 2.0)
Small fonts are hard to read in File lists.
Overall:
Great bang for the buck.
Ed note 1/2010 Kontakt now is available in the Komplete package below
Native Instruments Komplete Software Suite
KOMPLETE 6 brings together seven cutting-edge products that no studio should be without. Containing groundbreaking and multi-awarding samplers, synths, guitar/bass amps and creative effects, this collection represents Native Instruments' most powerful software tools.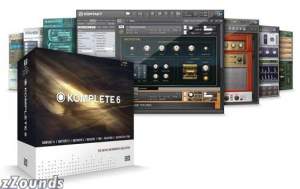 Kontakt is now arriving in stores in the US, and I went out and got it as soon as I heard it was in. After all, I do make sample cd roms, and I simply had to see what all the buzz was about for myself. I write having had the program almost 2 weeks; I've installed it, updated to its current version, auditioned the 5 cds of sampler instruments it came with and have used it in songs I have going in Cubase SX, Sonar and Logic 5. I can tell that the hype in right on. Kontakt is a full featured, easy to use sampler with some unique sound creation features.
Kontakt is typically fast loading presets, given that you have your sampler library in order. Much like a hardware sampler, there are three levels to the application. Samples, Presets and Multis. What makes Kontakt unique is the ability to "stack" up programs on different MIDI channels, allowing you to use separate audio outputs for each preset if you want (if your sequencer supports multiple VST outs--Cubase SX does this very well.). You really get the feeling you are working with a full out sampler. Using Kontakt in a song is straightforward. You will most likely be running multi timbral mixes out of your sequencer using the factory instruments (3 gigabytes on 5 cd roms is supplied) in no time at all.
Digging for Samples
This is the Main Screen of Kontakt, showing a Multi, which can hold up to 16 instruments. Each of the instruments can be set to a different midi channel just like a MIDI synth. You double click instruments in the left pane to load them in the list. Very fast and intuitive. Full size screenshots
Like other soft samplers on the market, any wave file on you computer is fair game. It does not matter where the sample is located, the Browser you see in the left pane of the screenshot lets you navigate to it, audition it with a single click on the name (nice!) and turn it into an instrument quickly by double clicking it. If you are just dredging up loops and hits, the process is so simple, its quite unbelievable. Of course you can do much more than that. Kontakt is capable of elaborate multisamples. A multi sample is a keymap where many samples are combined to make one instrument. Of course, you can put a different sample on every key and in different velocity ranges too. Drum maps, splits, multi layered pads, it's all possible. Like other soft samplers, how many voices you get depends on your CPU load. NI says that up to 256 stereo voices can be spread over 32 virtual outputs. That's more than enough for a full song, with Kontakt doing all the instruments. That's if your computer is fast enough. Soft samplers love computers with lots of RAM. If your system is new enough to take 512 megs or more, go for it. The stated specs say Kontakt can run on a Pentium II 300mhz with 128 megs, but I wouldn't try that.
Synthesis architecture
The metaphor that Kontakt uses is that of a digital sampler and a hardware rack of gear. Sort of like Reason in a way (though you will not be turning Kontakt's rack around to plug things). Now think about that for a minute to appreciate the difference between Kontakt and a soft sampler like the EXS. The EXS just gives you the samples, treated with envelopes and filters and lfos. Kontakt gives you all that, plus it's own effects rack. Meaning, you may not have to use your sequencer's plugins to affect your Kontakt instruments. Ok, you're probably saying, so what. Here's what. Kontakt's effects are different. They are easily controllable in real time, and they are cutting edge. Read on.
After you set up your sample(s) in the mapping editor, and loop them, if necessary, in the looping editor you start adding devices to the rack. Your 1st choice is: do you want to play the raw sample normally? Or do you want to process it through a "tone machine" or "time machine"? These functions are no mere "effects" tools, they are formant and varispeed tools. The tone machine analyses the waveform then makes a copy which sounds like the wave was put through a vocoder. But its more than a mere vocoder. You can adjust the formant in real time by assigning the controller of your choice. Then, if you want you can play through the sample. What does this mean? The sample does not retrigger, so with a vocal, for example, you can "sing" the phrase by playing the notes on the keyboard, the pitch of the vocalist follows your fingers. (yes!) Awesome! This is really cool with vocals. I have to say, that feature is worth the price of admission right there. The Time Machine is next. This works like the tone machine except here you can slow or speed up the sample without changing the pitch. You can actually bring a sample to a dead stop with the pitch ringing. Reminds me of the newer DJ cd players that do this. Umm, there are some unnamed hardware boxes out there that cost about $1000 that do these features and they are very hot on today's records.
Ok lets move on down the rack. There are 12 modulators: Velocity, release velocity, Key position, midi controller, Pitch bend, Poly and Mono aftertouch, Lfos, Envelopes, Glide, Envelope Follower and Step Modulator. These can be routed to 8 destinations--filters (17 types--see below), distortion, saturation, LoFi (really cool bit and sample rate reducers and a thick noise generator) and , Compressor, stereo enhancer, amplifier and FX sends. There are 3 different levels where effects can be applied, first, at the group level, where the raw samples are mapped, then again at the instrument level, where all groups are affected and finally, at the the send and returns to which you can send variable amount from each group. For a sampler, this is pretty deep. There is a handy Signal Flow chart that you can study to get a handle on Kontakt's deep synth architecture.
Programming aids
Pic of Kontakt's Rack, which you can configure in many different ways with modulators and destinations.
There's some niceties for programmers like presets for envelopes, filters, presets for the tone and time machines, presets galore!
Import Options
Here's what you can load: AKAI S-1000/S-3000, Gigasampler (if Ram is sufficient), SoundFont (SF2), BATTERY, REAKTOR, LM4, AIFF and WAV from 8 to 32 bits. You'll find that all your Battery Kits load right in with no problem. You will find that you might get some extra tweaking milage in Kontakt. Akai is the standard for professional cd roms, so you can use your Akai collection with Kontakt. It's excellent that Kontakt imports SF2 files. There are tons of great soundfonts, like the emu soundfonts at www.soundfont.com all over the web (and some here at TweakHeadz Lab). While all the filter settings might not come through, over all, I was pleased with the translations and it's a great way to build your Kontakt library fast. Kontakt also loads Gigasampler files, but be careful, some of those .gig files are really big. And you always have good old AIFF and WAV, from 8-32 bits. News Flash: Native instruments announced on 8/18/02 that version 1.1 of Kontakt will import Logic EXS sampler instruments and Halion instruments. Should be out in September. News Flash 2: Kontakt 1.5, a paid upgrade is now out. So if you buy it make sure you "Kontakt them" (sic) within the grace period to gitcher free update.
Support
You can get help at Native Instruments online forums is such a great thing Native does here, I hope more software makers follow suit. As a registered user you can post questions and reply to topics. But even without registering you can take a look at what people are saying about Kontakt.
Problems with Kontakt
As with many programs you buy today, you need update Kontakt as soon as you get it out of the box. The version on the CD crashed on me in about 20 seconds. The current version 1.02.001 is much better, though it still has it's share of bugs. What this means is save your instruments and Multis as you make them. if you are running in a sequencer and do not do this you'll have to rebuild from scratch. I use my 19" monitors at a 1280 by 1024 setting to maximize sequencer screen real estate. At this setting the font for the lower browser pane is very small. They chose a font with All Caps too, which is hard to read. I hope they give a few options here.
Filter types:
Here's all 17 filters with a brief description. As you see there is lots of good stuff here. The Techno Trance mavens will love these. And yes you can assign controllers to the different soft knobs to get these things moving in real time.
LP 1 pole (simple frequency cutoff (6 db) with no res)
HP 1 pole (that's High pass),
Bandpass (fixed Q),
LP 2 Pole (the classic)
HP 2 pole (very effective)
2+2 pole bandpass (which is like two 12db filters for 24db boost--intense!)
a 2+2 pole notch filter (which makes flange sounding effects),
the good old LP 4 pole which is what most people think of as a standard "analog" filter,
an HP 4 pole for those bright resonant sounds, and some you usually don't see, like the
LP 6 pole which is a lowpass and resonance with 36db boost and finally
3x2 pole multi mode (wow, that has 3 bands of resonance and can output 3 different feedback whines)
1 band parametric eq
2 band parametric eq
3 band parametric eq (cool thing, you can move from the 1 band to the 3 band and the settings from the 1 band are applied automatically)
Phase filter (this one has resonant teeth)
Vowel A
Vowel B (somewhat more squelch than Vowel A)
Results in popular sequencers I find Kontakt works in Sonar, Cubase SX and Logic. However, it seemed a little rough going in Sonar at times. It was pretty smooth in Logic, given that you call up a new instance of Kontakt for each instrument. Logicians are used to that though as that is how the EXS works. Kontakt was nearly flawless in Cubase SX, was multitimbral and used multiple busses.
Conclusions
I'm just starting my work with Kontakt and I am optimistic that it will work for me for a long time. The key advantage is that it can run on all sequencers that support DXi and VSTi's. A Mac version is now rerality, and my box had a coupon for a free crossgrade, which is good for Logicians that think they might go Mac. Kontakt has a deep architecture that will please the tweakmeisters among us, yet is simple enough for a newbie to set up Multis.
Check this page frequently for updates as I learn the deeper realms of Kontakt.
Software Synths and Samplers INDEX
Understanding the Virtual Studio
What is a Software Sampler?
What is a Soft Synth?
What are Software Processors?
Atmosphere
Spectrasonics Omnisphere
Spectrasonic's Trillian
Superior Drummer
My Favorite Vintage Soft Synhts
Stylus RMX
Battery by Native Instruments
MOTU BPM
Albino 3
Intakt
Guru Review
StormDrum Review
Reaktor
Korg Legacy MS20
Garritan Personal Orchestra
Altered States
Massive
FM7 and FM8
NI's Komplete Bundle
MiniMoogV
MOTU's Ethno
Are Hardware Samplers Obsolete?
MOTU MX4
Absynth
Antares Filter
Logic's EXS24 Sampler
Kore
Kore 2 Review
Kontakt
Kontakt 3
Waves Gold and Platinum
Software Plugins Price List