Kaossilator Pro Review
New ways to shape your sound
by TweakHeadz Lab
Korg Says:
First came the Kaoss Pad, an effects processor with a revolutionary touch-sensitive X-Y interface that made sound manipulation more interactive and expressive than ever before. Then came the Kaossilator, a pocket-sized synth with basic looping capabilities which incorporated that same intuitive X-Y surface. Now there's the Korg Kaossilator Pro. Built around the now-classic X-Y touch pad model, the Kossilator Pro is a powerhouse synthesizer, loop-sampler, live performance, music production wonder-tool. Whether you're an electronic musician looking to add some expressive panache to your rig, a DJ who'd like to do some live remixing, or a producer looking for new sources of inspiration, the Kaossilator Pro is just what you've been looking for.
Korg Kaossilator Pro Dynamic Phrase Synthesizer
Announcing the KAOSSILATOR PRO - a supercharged version of the palm-sized KAOSSILATOR, reborn as a powerful track-making tool and loaded with live performance power.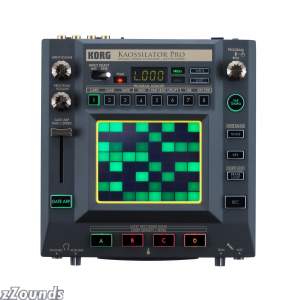 Korg KO1 Kaossilator Dynamic Phrase Synthesizer
The Kaossilator is a new pocket sized instrument that packs Korg's world renowned synth sound along with innovative performance features into an ultra-compact unit. Anyone can instantly play musical phrases by simply tapping or sliding their finger across the Kaossilator's touch pad - no previous skills required! The Kaossilator is a portable, travel friendly device that runs on batteries, so you can have fun creating music anywhere your life takes you, with seemingly endless possibilities.
What it is and Does
The Kaossilator is here at the lab, arrived Friday from zZounds, absolutely perfect new stock, already updated to OS1.2. I just finished a rough draft of a techno-ish piece using only the Kaossilator pro in logic and it went well. I've read all the documentation, formatted an SD card for storage, made up a bunch of loops as I went through the library of 200 patches.

Most of the patches appear to use Korg's virtual analog engine, though they never explicitly mention it in the docs. There are some PCM samples, like drums, brass and guitar hitz, that are documented as such. (See the program list in the manual). While, there is no mention of the sound generating engine anywhere, it sounds like a Virtual analog engine to me. There are leads, chords, pads, just dripping with character, and controlling them with a finger is a delight. You can set any program to any of 31 scales and many are truly exotic sounding. You can also turn off the scaling and you can be in the land of microtonality. You can have the touch screen control between 1 and 4 octaves or "all" which seems to be 7 octaves. At max range you can roll up or down an octave by rolling your finger. You can tap a melody, glide, zig zag or make quick jabs and quick smears for an animated lead.

You can also put the Kaossilator pro in "external" mode. This lets you play external instruments like a midi controller. it did great with my V-synth and with my Motif and with all the soft synths I tried. Anything that is a one voice solo synth works well. The Kaossilator does not send polyphony. Controlling drum kits is quite interesting. Korg's internal kits typically have 4 samples so making a pattern is not difficult with a little practice.
You can tweak exactly what controllers the Kaossilator will send in external mode. Make sure you download the free editor at one of the links below. So you can tailor the X-Y pad to your favorite synth. You can save and load settings from this editor, or to/from SD ram.
You can also record through a microphone/line inputs through the Kaossilator's onboard vocoders and effects patches. Yep you tweak the finger as you speak through the mic. While this vocoder is not going to rival the one on my Vsynth, its got its positive attributes. Yes you can record the vocoder in loop mode.
Recording Loops
The Kaossilator Pro, at heart, is an audio phrase/loop recorder. You can record to the 4 pads from the internal synth sounds or from either the Mic or Line inputs. Pres the record button and a pad button and recording starts. Press record again and you are in audition mode where you can try out a 2nd patch or try playing something different in the through the Mic or line inputs. You can overdub endlessly. The trick is to stop before you make a mistake on the 5th or nth pass. There is no undo. After you have your loop you can make it play back by tapping its pad button. Making loops is tons of fun.
Ok, here's a quick little song I did. Note all those 80's electronic textures. You can hear the results of my first loops!
Storage and Editing
You can save these loops to an SD card or to your computer. You can store 100 loops, 100 .wav and 100 .aif in addition to global data and 10 .all bundles. Plenty enough for a gig though. Data format for the .wav and .aif files is 8 or 16 bit PCM, mono or stereo. If you load a 24 bit file, it will be truncated. Loops can be as long as 16 beats (4 measures) and as short as 1 beat (a quarter note). Each loop is created on a single pad. You can overdub as many times as you want with as many of the internal instruments as you want.
Unless you are gigging, your may not need an SD card. You can transfer loops and all settings back and forth to your computer over USB and it is easy. You can also access the card from your computer without taking it out of the slot in the Kaossilator pro.
The max SD Card capacity is 2GB. You can't use SDHC or SDXC cards. I am using a 512 card and think it should be enough.

Thanks to the Gate/Arpeggiator, you can keep any internal patch locked in time. It will sync your phrase/loops to your sequencer as well. In Logic I can press play to run the clock and start the loop record process. When i am done I could record it as audio on an audio track or go through the editor to export it as .wav, then drag it to the computer sequencer.
Recording in a Software Sequencer
Recording with MIDI: You can record out the MIDI out in internal mode and plays back perfectly. The odd thing here is that the internal sounds of the Kaossilator are NOT controlled by MIDI note messages, but by CC12 and 13. Those controllers turn the notes on and off and you can edit and quantize them in Logic's editor. Once you perfect the sequence you can then record it as audio.
What is even more strange is that you cannot "play" the Kaossilator from an external midi controller. Note on commands sent to the Kaossilator's midi port do nothing. Yet in external mode, where you control other synths, note ons and off are sent from the XY pad. I thought I'd be able to loop that data back to the Kaossilator but nope, the data is ignored.
Recording as Audio: of course this works just fine. Simply connect the outputs to your audio interface inputs and press record on your software sequencer and play the touchpad in real time or in sync via the gate arpeggiator synced to the sequencer's clock.


If there is something you should know before buying to avoid disappointment it is that there is no way to edit these great patches or come up with your own creations with this fantastic virtual analog engine. You can't edit the effects either, though you will hear a nice reverb and awesome delays and filters on many patches. If the patch lets you, you can control some parameters with the XY pad as you move your finger. For example, near the top of the XY the filter will open ant the bottom it will darken, but you cannot change the filter type or turn it off. There is no switching out oscillators, filters or envelopes. Too bad! Makes me want to go out and get a Radias!
So lets sum up:
Korg KP3 Kaoss Pad
Korg's KAOSS technology has been embraced by DJs, musicians and producers alike. No other interface is as intuitive, immediate or just plain fun to use. By simply touching, tapping or sliding your finger over the touchpad, the all-new KP3 allows you to control multiple effects parameters and manipulate samples in real time.
The Pros:
An amazing synth controller by your finger. Set the scale right and you'll never make a bad note. The scales are wonderful.
Great sounding Korg sound engine.
Excellent Build quality
i/o is unbalanced, but the output is quiet and has plenty of oomph.
USB MIDI is well implemented, especially with storage.
in internal mode, you can record into a software sequencer and it will playback very well.
in external mode, you can record into a software sequencer and trigger any synth on your system.
This synth is definitely fun to use. Loop mode is a trip!
The Cons:

Can't edit the 200 patches; no user patches
Can't play the Kaossilator from an external controller or through standard midi note on/off data.
Loop pads sometime pick up a spurious note even when not in record mode. This seems to be a minor bug.
balanced i/o and XLR Mic input would be nice. At the price, its forgivable.
Links
Manual, EZStart Guide, Free Software editor, Updater
https://www.korg.com/SupportResults.aspx?search=kaossilator
Threads
Comment on this Review https://zzounds.com/a--3745/phpbb/viewtopic.php?f=90&t=76530