Review of the Korg Legacy MS-20
Compared to the Original MS20 Synthesizer
As many of you know, I have an original Korg MS-20 here in TweakLand. It is my prized synth, and it has been with me through the thick and the thin. I found it in a dusty corner of a pawn shop in the late eighties, barely working, and paid about $75 for it. Today I could not put a price tag on it. I think I have sampled it over 5,000 times and have used it on many tracks in many songs. I bought my Wavestation SR back in 1990 for a cool grand. It sits in my rack with an ailing power supply, good for maybe an hour every time I boot it up. I just paid $299 for the Korg Legacy Collection with the MS20- controller from zZounds. I am here to tell you about it, compare these software synths to the originals and give you an indication of value. In this article, we'll focus on the MS20 soft synth and the MS20 controller.
The Legacy Controller
The unit came triple boxed from zZounds and on time. I had already played with the demo and was impressed after a did an A/B comparison through most parameters. I knew the controller was not like the full size ms-20, so it was no shock to see it up close. Indeed it is like a miniature MS-20, with mini keys instead of full size keys and 1/8" jacks and cables instead of 1/4" phones. It's cool looking and every knob, LED light and CV jack is there. The case is made out of black metal, like the original, with similar looking black plastic end pieces. There is a USB out on the back and a USB cable is supplied. I did not mind that the controller was smaller than the original. It's size makes it easier to keep close at hand. The keyboard is for sure, quite cheap feeling and the 1/8" jacks did bother me, though they do work perfectly. Toy quality build though. I started thinking "They should have not put any keyboard on there and made it like a Virus TI with 1/4". Don't think you'll get away using this keyboard as a controller. Then after playing it a while I changed my mind a little. I was glad the keyboard was there just for programming. Why? Cause this is a synth that is really fun to program. In fact it is as much fun as the original because you can do one important thing you could never do on the original--namely, save Presets. What a blast! Within an hour my hands had found some of my favorite ms20 tones, using the same methods I use on the original, but now saved as presets in Logic's directories.
The New MS20
To my growing fascination, and sometimes happy surprise, I found that, overall, the knobs worked in very much the same way and the nearly exact same hand movements worked on the legacy version as they do on the old analog beast. But one new joy is watching the Controller data rush into Logic as the knobs are turned doing another thing the original MS20 could not do: record every nuance of your real-time tweaks, saved right in the track, and editable if you want. Interestingly, you can turn the knobs in real time by mouse or the controller. The knobs send standard continuous controllers, so you can use them to send commands to other software and hardware synths you have. If you got sick of the controller taking up space you could still use all the software instruments without it. The software interface has a few controls the original hardware does not have, mainly velocity and keyboard tracking controls. These help shape the sound a little more. Also, the software lets you switch between mono and poly modes. Yes, this MS20 is polyphonic if you want it to be, unlike the original. Still, I think it sounds best, most rich and full, in mono. You want the authentic experience? Use it in mono through a stereo delay plugin, hold down one note and do the knob thing. Used in this manner the legacy experience is completely satisfying to me.
You can use the MS20 soft synth as both a software synthesizer and as a signal processor as an insert on audio tracks. When i saw that I had to flash back on the many times I use the original for analog processing and how hard it was to set that up. This is a dream. Also the software offers LFO sync by MIDI. The original did by controlling voltage. I used to send the original a hi-hat blip to make it get "sort of" in time. The patchbay on the controller actually works-- far better than my original, which had given me hours of head scratching.
The Sound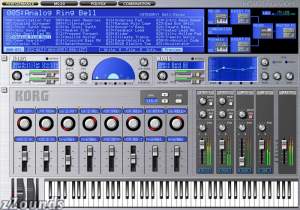 This virtual instrument/effects pack includes soft synth versions of Korg's popular MS-20 and Polysix analog synthesizers, the Wavestation advanced vector synthesizer, a slew of high-quality effects, and a fully-functional, special-edition MS-20iC USB-MIDI controller. Korg KLC1 Legacy Collection with MS20 Controller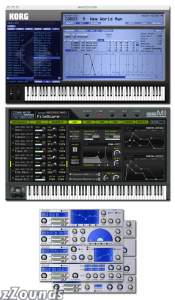 Introducing the Korg Legacy Collection -- Digital Edition; stunning software versions of 2 Korg digital synthesis masterpieces -- the M1 and Wavestation -- plus the MDE-X multi-effect plug-in. Now you can get the classic sounds of these 2 ground-breaking synth legends updated for the 21st century and ready to rock your computer, in VST, Audio Units and RTAS-compatible formats! Korg KLCDE Legacy Collection Digital Edition
I'd say that over 92% of the original sound is there. And there are many sounds you can achieve in the software version that the hardware could never do. Also, the software version is much tighter and quicker. You can run extremely fast arpeggios through it and it will execute them perfectly. The original MS20 was, like many analog synths, a bit on the sluggish side. What is missing in the new legacy version is a subtle analog "roundedness" and lovely sloppiness at high frequencies. Where the original was sometimes "gooey" and felt like you were playing with unstable voltages, the digital model is precise and accurate. Self-oscillation sounds more like a high-pitched, static tone than a fluid, slippery unstable whistle. Also missing is the background electronic "hash" that sort of sounds like burning wires. But the above are unlikely to be noticed by anyone not as intimate with the original synth.
Positively, the Hi Pass and Lo Pass filters and their resonance controls (the Peak knobs) are quite faithful and very good sounding. Other modulators work very close to the original. The LFOs are good and under software control, can sync to tempo.
Also the software model is predictable. Its going to make the same sound every time you put those knobs in the same exact position. That's both good and bad. But that is the giveaway on any modeled analog synth. A real analog synth has more instability as oscillators drift out of tune, phase, and suddenly shift as the wires and transistors warm up. There were also some places high on my 88 key controller where the sound broke up into little bell-like fragments at some settings. But what they hey, the original could barely span its 3 octave keyboard. Amazingly most of the sounds were useful on the legacy through 50-65 keys That's about the only criticism I can come up with. Korg did a great job. Does it sound authentic? Let me give it a resounding YES! when used in mono mode with the knobs being tweaked as you play.
When the Legacy collection was retailing for $499 it was a really good deal. Now that it is down to around $300 its one of those items any serious synth head should not pass up. Its probably the closest one can get to the sound and feel of a true analog mono synth under $300.
I'll be back to talk about the Wavestation in a future review, so stay tuned.
Tweak's Articles on Software
Software Synths and Samplers INDEX
Understanding the Virtual Studio
What is a Software Sampler?
What is a Soft Synth?
What are Software Processors?
Atmosphere
Spectrasonics Omnisphere
Spectrasonic's Trillian
Superior Drummer
My Favorite Vintage Soft Synhts
Stylus RMX
Battery by Native Instruments
MOTU BPM
Albino 3
Intakt
Guru Review
StormDrum Review
Reaktor
Korg Legacy MS20
Garritan Personal Orchestra
Altered States
Massive
FM7 and FM8
NI's Komplete Bundle
MiniMoogV
MOTU's Ethno
Are Hardware Samplers Obsolete?
MOTU MX4
Absynth
Antares Filter
Logic's EXS24 Sampler
Kore
Kore 2 Review
Kontakt
Kontakt 3
Waves Gold and Platinum
Software Plugins Price List
---