Review of the
Roland VG-99
The Most Powerful Virtual Guitar System on Earth?
Roland VG99 V-Guitar System
In the history of guitar modeling, no manufacturer has devoted more time, resources and passion into this market segment than Roland -- from the world's first guitar modeling processor, the legendary VG-8, to its popular V-Guitar predecessors. Today, Roland proudly announces another milestone in guitar modeling and performance technology: the VG-99.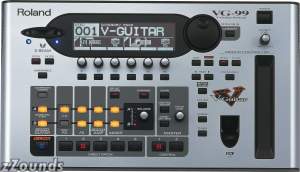 Roland FC300 Guitar Foot Controller
The FC-300 sets a new standard of power, versatility and innovation for MIDI foot control. With features such as bi-directional MIDI data flow to the Roland VG-99 via newly adopted RRC2, patch memory recall, twin expression and control pedals and more, this advanced control station is a perfect companion for Roland's new VG-99 V-Guitar System or any other performance-based MIDI instrument or device.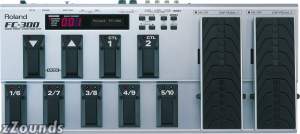 Tweak: The FC300 is an optional accessory. No pedals of any kind come with the VG99. It requires no batteries or power supply when you connect directly to the VG99 through the RRC2 cable supplied with the VG99.
Do you need an FC300? Well, Its pretty hard to do a Wah wah with d-Beam or the ribbon controller. Switches 1 and 2 are duplicated on the VG99 front panel. The other 6 switches just select presets, modes, etc. So what you really get here that you have to have are the two expression pedals. You can get those separately. However, for the big guitar rig folks you can add more expression pedals and switches to the FC300, making for a huge floor control system. For the gigging guitarist, the FC300 will be put to good use. Thanks to the program change map in the VG99, you could tap your foot once between songs and bring up 5 presets for the next song. You could play an ES335 for the verses and at the chorus switch to a Les Paul, Strat, whatever. Always have a bass patch ready for when the bass player gets too drunk and falls off stage.
Roland EV5 Expression Pedal

The EV5 is an expression controller pedal used to control various pedals and effects in real time.
Tweak: Note that the GK3 does NOT come with the VG99. It is an optional accessory. In my opinion if you get a VG99 you will be missing out if you don't also get the GK3. Be sure to read the manual before buying this product. Not every guitar can be outfitted with a GK3.
by Tweak
The Roland VG-99 can be as simple as any other guitar/amp modeler on the market. You plug in your guitar, find a preset and wail. There are plenty of presets--200 factory and 200 user. If you are a traditional guitar player, you can stop there. You'll enjoy some great tones and effects. You'll also get to play with a D Beam and Ribbon Controller, some things Guitar men and women aren't used to. But the VG99 is more than that. Roland set out to make the most powerful guitar processor on earth, and claim they have achieved it. It certainly does carry a very high price tag.

But such is the cost of Roland's professional line of V-things. The V-drums cost as much as a good used car, the V-Synth is not far behind and now the V-Guitar System joins at the modest cost of $1200. As you would expect from Roland, the build quality is excellent. The buttons are the same as those on the Fantom. The display is monochrome, but is laid out clearly and has big bold fonts for the preset name that could be helpful on stage. Clearly, Roland thought carefully about what features to put into the VG99. It aims to please just about everyone that will use one, whether live or in a professional recording environment and most certainly for the home tweaks doing the DAW thing.
Ins and outs
On the back panel you get your choice of outputs: you get a guitar output (which can go back to a real world amp), a pair of +4 XLR line outs, -10 TS unbalanced line outs (which could go to a second amp), phones, digital out (coax), MIDI in and out, and USB. For inputs: You get a Guitar input, of course. There is a network cable supplied for the optional FC300 foot controller. Also jacks for an external expression pedal and controller (neither is supplied).

The USB here is the full treatment. You get special functions through USB which can be used if you want them. The VG99 functions as its own USB MIDI interface and also as a 2in/2out Audio interface. It pipes the MIDI data from the guitar to MIDI conversion routines to your sequencer and also sends SysEx to the computer editor application. (Note: you can use the standard MIDI out for sending Guitar to MIDI data.) You can keep the editor open alongside your recording software, tweaking up the sound before you record. You can edit all the functions of the VG99 on the computer screen and store patches in the supplied librarian software. You can also use the onboard tuner (which is excellent by the way), define alternate tunings and work completely from the VG99 on the computer screen.

The VG99 also sends audio data over USB to your recording applications. It will also receive 2 channels back from the software and send it to the VG-99's main outs. If you already have an audio interface you don't need this feature, but its nice to have when you and your laptop are away from the studio. I did not try it yet, but I'll bet you can let your iTunes play through the VG99 and play some guitar on top-- a nice way to practice.
One of the strengths of the VG99 that there are many ways to work. The VG-99 supports dual audio paths--two complete guitar channels--both with COSM Guitar models and amp models, an effects rack and mix parameters. If you use the optional GK3 divided pickup you can switch in the output of you real guitar, giving you a choice of V-Guitar and "normal" guitar in one preset. Effects and amp models can be put on both guitars and their outputs can be mixed.

There are many advantages to having two channels of guitar sound. You can combine the two for a fatter sound, just in case you can't get what you are after using just one COSM model. For example, you can have a different alternate tuning on each model, giving a huge 12-string sound. Or have one channel be for "clean" playing and the other for "solo" and switch back and forth. You can even switch channels by how hard you pick. If you are interested in some of the tricks you can do with the VG-99, check out the videos in the links section below.
I have an Epiphone Casino, a guitar I've always loved, but it has its noisy P90 pickups. Plugged into the VG99, I have options galore. I can take the raw sound from the pickups and apply models and effect to those. The noise gate is great, it takes the noise out very well. Or I can use the GK3 pickup as a source. This gives me a squeaky clean sound as the GK3 is essentially like having a Humbucking pickup on every string.
Software
The computer editor installed easily on my G5 OSX 10.4.10. There already is an update online to V1.01, but I saw no flaws with 1.00. I recommend it for learning what features are available in your VG99. Take a look at the pic below. The Librarian is just a simple sysex dump utility. You can save presets, system settings, etc. If you manage to make more than 200 user presets, it will come in handy.

Screenshot of the VG99 editor

The computer editor and the VG99 hardware screen will stay in sync if you are on the right screen. You can change one and instantly see the change on the other. The editor does let you see more parameters than the smaller screen on the VG 99, but I find myself liking to tweak on the box itself. This box was made to be tweaked. The controls are placed so well that the hand intuitively finds its way around.

There is no VST/AU version of the editor. You would use it outside your sequencer as a stand alone application. I am hoping Roland does decide to make one as that would be awesome.
The Models
Guitar modelers have now been around a long time and the market is saturated with low cost modelers that don't sound a whole lot different from the VG 99, at least to my ears. You can get a Behringer V-amp 2 for less than $100 and get access to many tones. Of course there are also the Line 6 modelers, including the PODxtPro, the Vox ToneLabLe and products from Digitech and M-audio as well. In software there is Native Instruments Guitar Rig 2.

The COSM Electric Guitar models include a classic and modern Strat, a Telecaster, LesPaul, P-90 (Les Paul JR), Lips (Danelectro 56-U3), Rick (Rickenbacker 360), 335 (Gibson ES 335-dot), L4 (Gibson L4 CES) and Variable (design your own).

There are also Steel and Nylon acoustic guitars. The steel string "body types" include Martin D28, Martin 000-28, Gibson J45, Gibson B25, Guild D40.

Additionally there are 2 basses, 11 synths, sitar, banjo and resonator. I think the electric guitar models are the movers and shakers. The Amps: there are about 50 models with about 9 different speaker cabinets. These are not just set and forget plugins. Each model has tweakable parameters to help you get it just right.

Same with the Effects, of which there are tons. See the rack in the pic below.

My final verdict is still out on the models. I will add to this review as I gain more experience with them. I will say I am quite impressed with the electric guitars, less so with the acoustics. It is possible to tweak the models to get them to give up what you want. Right now I am building my basic presets, trying out all the different functions, learning how to use the switches and controls.
The VG99 effects rack. There is more than meets the eye here. MOD 1 and MOD2 in the rack can be assigned to any of 25 effects. OD/DS has many variations of classic distortion stomp boxes. The collection is complete. By clicking on "detail" on each effect, a separate window opens with all the parameters listed.

Roland GKP4 GK Parallel Box
The Roland GKP-4 GK Parallel Box allows guitars equipped with a 13-pin GK-compatible pickup to connect to up to 4 different Roland and BOSS GK-Ready devices simultaneously. The box features separate On/Off switches for each output, plus the ability to turn GK volume messages on or off for real-time volume changes on select devices.
Fender Standard Roland Ready Stratocaster Electric Guitar (Rosewood, with Gig Bag)
Fender's far-out Roland-Ready Stratocaster guitar has all the features of the Standard Stratocaster -- fast-action Maple neck, comfort-contoured body, 3 single-coil pickups and synchronized tremolo -- with the addition of a built-in Roland GK-2A pickup system that lets you drive peripherals directly from the guitars on-board controls to get the most amazing sounds...
The GK3 divided pickup sits next to the bridge
You can see how the bracket is sandwiched between the bridge adjusting wheel and the top of the bridge. You may have to add supplied pads and spacers to bring the top of the pickup to 1mm (0.04 inch) from the strings. A tool is supplied to measure this fine adjustment.
Not every guitar will be compatible with the GK3. It has to be placed as close to the bridge as possible, at a distance no greater than 20mm (13/16") from the bridge. Guitars that have no space between the bridge and the bottom pickup could be a problem.
The GK3 controller mounts near the end pin of the guitar
The GK3 pickup comes with good instructions. There are 3 ways to install it. 1) with screws, 2) with double sided tape, and 3) with a supplied bracket that is "sandwiched" on the bridge. The bracket method does not change or mar the guitar. Using tape or screws, of course will affect the guitars appearance permanently. It took me about 23 minutes to install it. The worst part was taking off the guitar strings and putting them back on. Not too bad.
Roland PDS10 Pad Stand for HPD, SPD, and TD Series
Along with the debut of the Roland HandSonic 10 comes a new double-braced support stand: the PDS-10. It's the successor to the PDS-15, and features a newly improved angle clamp that provides 200 degrees of tilt. The stand is designed to be used with Roland's HPD- and SPD-series instruments, which include the HandSonic 10, HandSonic 15, SPD-20, and SPD-S.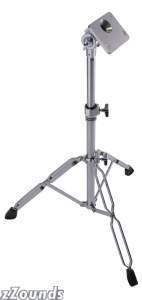 The PDS10 Stand
Tweak: This appears to be the stand and bracket for using the VG99. There is one reference to it on Roland's site. A bit on the expensive side.
Boss FS6 Dual Footswitch
Two switches in one, Boss's new FS-6 combines latch- and momentary-type switching into one unit. With two switches conveniently housed side-by-side, the FS-6 allows each switch to be set for latch or momentary operation. Pick the configuration that best suits your playing style and setup.
The GK3 Divided Pickup
Its easier to explain the GK3 in pictures than in words. But basically, the pickup is cabled to the controller that mounts on the guitar, and then is connected to the VG99 via a 13 pin cable.

There is still more to the VG-99. Being a total die hard MIDI person its hard for me to resist the concept of MIDI guitar. After all, guitar was my first instrument, and is the main instrument I can play with feeling. MIDI, you already know, is totally in my blood. The VG 99/GK3 system is my 3rd MIDI guitar system. My last was a Yamaha G10 system over 15 years ago. I swore then "Never again!" I already know the downside of pitch to midi schemes intimately. My main reason for buying the VG-99 was to find out if Roland has managed to improve MIDI guitar.

Guitar to MIDI Conversion

Things have improved to a point. To be sure, setting up the Guitar to MIDI function was not a walk in the park. At first I had double notes, missing notes, wrong notes, and pitch bends mysteriously appeared in Logic's event window, even when I played with great precision (which is required with any MIDI guitar). It took me a lot of time to set it up properly. One of the culprits, in my case, were the midi settings. I started getting decent results once I disabled the USB driver and connected only out the MIDI out jack. If you are having trouble with your VG99, check to see what is set on the MIDI page.

If you go through the process of tweaking your soft synths and samplers to optimize them for MIDI guitar, the results will sound better and you'll get a better feeling when playing, bending and using vibrato.

Typically, you program a performance for a soft synth so that each string has its own dedicated midi channel with its own preset, synth parameters, controllers and volume and pan. I am thinking that as I build up some synth performances for the VG99 and GK3 that things will improve.

Yet, even under such limitations there is fun to be had with MIDI guitar. You can put a bass on the 6th string, drums on the 5th, and solo off the other 4 strings. Try putting a different choir on every string--great for film textures.

Here is a soft synth I think is great with the VG99 (and should be for any MIDI guitar). MOTU's Ethno--awesome! Just put the same preset on all 6 midi channels, or get creative and mix it up a bit. The exotic fretted and plucked instruments really come to life. And the pads are truly wonderous! These are some sounds you can get with MIDI guitar that keyboards cannot touch.

For a sound effects maker like myself, I have to have MIDI guitar. Those who have never tried a MIDI guitar should know that playing a midi guitar is not like playing normally. You have to be real careful not to hit strings other than those you want to sound. It can be argued that one really does not need the Guitar to MIDI conversion because there are modeled synths inside. I tweaked up a few synth patches with the GR 300 model and indeed the results tracked slightly better than the Guitar to MIDI system. When you are not using MIDI, go ahead and get sloppy

All in all, the Guitar to MIDI conversion is a nice addition to an already great package.
The Balance
There is the "sound" of the box and the "sounds" in the box. The "sound of" the VG-99 is pristine. It is an excellent clean sound with a supple hi end. Eminently enjoyable and easy to work with. The clarity of some of the sounds is outstanding. Coming from the GK3, the sound is precise and clean, no hum, noise, garbage'.

The "sounds" of the VG99 are conservative, compared to Guitar Rig 2 by Native Instruments, which appears to have more functions, though no COSM guitar models. If you are searching for tone, Guitar Rig 2 also has the huge variety of FX. They are laid out in a more visually appealing manner in Guitar Rig 2. That may give the impression of it being better. But after playing around several days now, I am hard pressed to find a patch that the VG-99 can't do. The VG99 is a way ahead of Guitar Amp Pro (which is in Logic Pro). Sounds per pound, I think Guitar Rig 2 still has the best selection, but it has the disadvantage of being software that will take your CPU out to lunch and leave it there. Naturally, the VG-99 has zero hit on the CPU and you can take it on stage and not worry about it crashing.

Is it fun? Absolutely. Tweakable? You bet! This is a box that is made to be voiced and tweaked. The most powerful virtual guitar system on earth? The VG-99 outfitted with a GK3 might possibly be it. Even the best software modelers can't tell what string the note is coming from. The GK3 can. If they develop the GK3 functionality more and fix the Guitar to MIDI issues they might get on top and stay there for quite a while. But I am sold. It is now a permanent addition to my rig.
Regards, Tweak
You can add feedback about this review here
https://zzounds.com/a--3745/phpbb/viewtopic.php?p=349517
---
Links
Roland's VG99 Page Make sure to click on the links to the videos
Threads
Guitar Gallery
Guitar Gallery INDEX
Electric Guitars
Amplifiers
Acoustic Steel
Classic Nylon
Getting a Great Guitar Tone
Choosing your First Classic Guitar
Recording Guitar
Virtual and MIDI Guitar: VG99
My Epiphone Casino
Pics of Msrtin Guitars
Electric Guitar Pics from Namm 2006
Wild Guitar Pics from Namm
Guitar Forums at Studio-Central
---