21 ways to assemble a home recording RIG

Page 6
A Tour through the Diverse Home Studio options available Today
---
Rig #19 Acoustic/Electric Songwriter's Studio
Discuss This Rig

This rig can be discussed here:

https://zzounds.com/a--3745/phpbb/viewtopic.php?f=140&t=73330

Who it is for:

Multi track recorders are great for recording bands, jam sessions, even gigs if you get one with enough preamps and i/o. The smaller ones make great songwriter's tools, particularly for guitarists who don't want to mess with a computer.

Hooking it up:

The two MTRs shown below have all the connections you need right on the unit. Both have USB ports for connecting to a computer for transferring files if you want. Guitars, keyboards and Monitors connect directly to the unit.




The days of tape are gone now, perhaps forever. It's a digital world of computers as you have seen above. Yet many of us don't want the burden of hooking up a computer every time we want to record in out living rooms. Hence, multi-track recorders are more popular than ever and over the past few years they have dramatically increased in power and flexibility. The 2 multi-track recorders I list above have hard drives, and with the Roland shown above you can add a mouse and computer monitor. The huge advantage here is it can go where you want to record--great for bands, setting up a jam session at a friends house, on location at a gig, or best of all, on the kitchen table where you can edit and tweak down a master recording with the only cable being a set of headphones. Or grab your guitar and a your notebook of lyrics and go to it, without the distractions of computer issues redirecting you.

Other than microphones and studio monitors there is not a lot more to buy later, unless you want to interface with computers and larger mixers. The units come with good FX units built in and the Roland's are developing their own add-on effects cards. I like that these units help keep the focus on music, that is a very important feature in itself. Another interesting multi-track option is the Korg D3200

See my article on what to watch out for when getting a multi-track

The latest trend appears to be making the MTR smaller. Rather than trying to duplicate all the functions of a computer based DAW, the new leaner MTR allows you to connect to your computer not only to transfer tracks over USB, but to act as a bonafide audio interface.

Leading the way here is the Zoom R-16

Zoom R16 Multi-Track SD Recorder Interface and Controller

At this price the Zoom is going to make a lot of people happy
---
Rig #20 It's got to be simple keyboard/guitar/vocal/Studio--No Computer!
The nice thing about these units is that they have much of what home recordists want in an easy to deal with format. There's a built in 40 GB drive, effects, XLR mic inputs--with phantom power--so you can use nice condenser mics. Thanks to S/PDIF and USB 2.0 you can export tracks to a computer if you want. Nice for recording somewhere else in the house then editing later. The Korg is a bit newer and I like the no nonsense design on both. None of that data compression going on here. In the end, you get CD quality 16 bit/44.1 recordings on either.
The critical things to note when shopping for a multi-track recorder: 1. can it record at a 24 bit depth 2. number of inputs/preamps should match your needs (i.e., for recording a band you need a lot) 3. storage 4. the method used to transfer tracks to a computer.
I choose the KRK RP5 again because for the money, they are hard to beat. For Mics there are of course many options, but if I had to go with one, the NT1a will excel at vocals and acoustic guitars.
I mean a simpler studio: Removable Media MultiTracks and PocketStudios
Its pretty unbelievable the quality that the inexpensive solid state recorders can achieve. By virtue of not using hard drives or tapes, the machine is lighter, quieter and cheaper! The tradeoffs here are how many tracks you can record at the same time, the necessity of freeing up data storage by backing up to a computer more often.
A great MTR in this range is the Zoom R16, which, amazingly, can also function as an audio interface. Great for the studio guy who might want to take the MTR to a bandmates house or to a gig, take it home and mix it down on the computer. Tweak says: That's Hott Baybay!!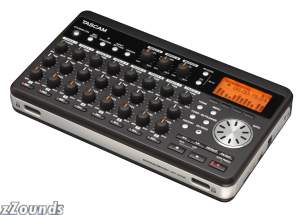 Tascam DP008 8-Track Digital Pocketstudio
TASCAM's DP-008 is an eight-track recorder that captures CD-quality audio, two tracks at a time. You can use built-in microphones to grab ideas, plug condenser mics into the XLR inputs or plug a guitar directly in to lay tracks. There's even a metronome and chromatic tuner built-in for tight-sounding tracks. The DP-008 also allows you to digitally bounce tracks to make room for more, and touches like editing and undo make recording stress-free.
Tascam DP-004 4-Track Digital Pocketstudio
Tascam's DP-004 Digital Pocketstudio is based on 30 years of easy-to-use cassette Portastudios, updated with four tracks of CD-quality digital recording. Like those groundbreaking Portastudios, a row of knobs set levels and pan instead of a list of menus.
Tweak: The knobs thing is definitely a good idea. Dealing with constant menus on an MTR can really wear one down. 4 tracks is great for the acoustic guitarist/vocalist. More if you want. Did you know the Beatles made the album Sgt Peppers on only 4 tracks? Unbelievable, but true.
Zoom H4n Portable Digital Recorder
The Zoom H4 has a 4 track mode. You can actually carry this recorder with you and hum the parts of your next magnum opus as you stroll through park on a lunch break. Built in condenser mics will record in full fidelity. You can record at 24bit/96khz if you need to or at MP3 economical bitrates. Naturally its great for sampling stuff for your samplers at the studio. There are more removable media digital multitrack recorders. Check out some new models
---
Rig #21 I mean even simpler than a "digital" studio
Who it is for:
These are going away after over 25 years in bedroom studios. In fact as of 11/2009 they are gone! Tape is Dead!
People that just want to get the idea down and don't give a flip whether it sounds like it was recorded in a studio. In fact they may want it to sound like it was done at home. These people are into an old school gestalt. Well they better hurry. The cassette multitracks are no longer in stock at zzounds as of this writing x-mas 08. Those of you with dead 4 tracks and 200 master tapes from the 80's better get one quick before they are gone for good.
Hooking it up:
OK, it does not get simpler than this. You stick a tape in, plug something in to record and press a few buttons and it works. A great song on tape will still win more hearts than an average song done in Pro Tools HD. Hook it up to your stereo and have some fun. If you want to record with a XLR studio mic with these you can, but you'll have to get a mic preamp.
Finishing Up this section
Hope that helps a bit to give you a sense of how many different products fit into the overall scheme of things. Of course you can mix and match many items and substitute the ones I have shown with higher and lesser quality items. There's many ways to do it right, but many more ways to do it wrong. My hope is that I have helped you find the combination that works for you.

Happy Configs to your rigs!
Tweak
Want to Discuss this topic? Go to the CONFIGURING your RIG Forum
---
This article is constantly being updated
Go to the Previous Page