Laptop Solutions
Mark of the Unicorn (MOTU) Traveler-mk3 Portable Firewire Audio Interface

The Traveler-mk3 provides eight channels of pristine 192 kHz analog recording and playback, combined with twenty channels of digital I/O in ADAT optical, AES/EBU and S/PDIF formats. Expand your system by connecting additional MOTU FireWire audio interfaces or the 8pre mic input expander.
PreSonus FireStudio Mobile FireWire Audio Interface

Finally, a new-generation, studio-quality FireWire interface that you can use anywhere! The PreSonus FireStudio(TM) Mobile combines the superior analog-circuit design and advanced platform technology of our acclaimed FireStudio rack-mount interfaces with the ability to run on bus power in field applications. Now you can have enhanced audio performance for music recording and creation anywhere you can lug your laptop!
PCI Interfaces
Tweak's PCI Starter Pick: M-audio 2496
M Audio's Audiophile 2496 card is the latest addition to its highly successful Delta family of soundcards. The Audiophile 2496 is an all-in-one high fidelity soundcard solution for a wide variety of applications, ranging from multi-track recording to computer-based home theatre Tweak: Great M-Audio DACs and excellent drivers. Has MIDI too. That saves a few bucks. Great way to start! Great upgrade from a consumer card.
M-Audio Delta 1010 Tweak: I have used my 1010 with Sonar, Logic PC, Cubase SX, Reason, Vegas--It takes everything my CPU can throw at it. Great converters. Punchy sound. Take it to 24 bit 96 kHz or run it 16/44.1. Works well with Windows XP, Macs (even has an OS X. driver) and win 98. The delta 1010 has been out a while and the price has dropped. No mic preamps on it; just 8x8 analog with s/pdif. If you are using separate preamps or have a mixer, that's all you need. Great for older as well as newer PCs.
Emu 1212M 24-Bit/192kHz Balanced PCI Interface (Windows)


The E-MU® 1212M Digital Audio System delivers everything you need to produce audio on a PC with professional results - 24-bit/192kHz converters, hardware-accelerated effects and mixing, and seamless compatibility with your favorite PC audio/sequencer software. Tweak: Has the same great DACs as the emu 1820M
MAudio Delta 1010LT 24-Bit 96kHz PCI Card


The 1010-LT offers the professional performance required by today's most popular software programs, and provides you with features like 24-bit 96 kHz recording, zero latency monitoring, and digital mixing. Tweak: Unbalanced connections, but a good way to get lots of i/o on a budget.
M-Audio Delta 66. If you can't spring for the Delta 1010, the 66 will get the job done admirably. You get 4 analog ins and outs, balanced or unbalanced AND S/PDIF I/O. Uses the same drivers as the famed delta 1010, and it works well on windows XP. Click the pic for more. Tweak: A great way to go for beginners and even advanced studio jocks. No MIDI interface on it though. www.m-audio.com
Mark of the Unicorn (MOTU) 24IO 24-Channel Audio Interface
The MOTU Audio 24I/O interface fulfills the promise of host-based hard disk recording: to record, edit, mix process, and master multi-track recording projects entirely inside the computer. It provides 24 high quality, 24-bit/96kHz analog inputs and outputs in a cost effective, single rack space package, allowing you to connect and record from 24 simultaneous analog sources. Tweak: For when you need tons of analog i/o.
Mark of the Unicorn (MOTU) 2408mk3 Digital Audio Interface
This box contains everything you need to turn your computer into a powerful 24-bit/96kHz digital audio workstation. The 2408mk3 provides 8 channels of pristine 96kHz analog recording and playback, combined with 24 channels of ADAT and Tascam digital I/O Ö the most ever offered in a single rack space audio interface. Connect up to 4 interfaces to the included PCI-424 card for an expanded system capable of 96 simultaneous active input and output connections at 96kHz. Tweak: When you need a digital nerve center for a large studio, this box cuts it with scads of digital i/o.
FireWire Interfaces
MAudio Project Mix I/O Control Surface/Interface
Today, more professional music is produced at home than ever before -- and the new ProjectMix I/O delivers what you need to take your computer-based studio and productions to the next level. Seamless integration with all major DAW software. The ability to record directly into industry-standard Pro Tools sessions. Faders so you can feel the mix with your fingertips instead of dragging a mouse. On-board display of critical parameters for intuitive operation. Motorized control to craft more accurate mixes. Tweak: This is one of the newer "cross breeds" between a digital mixer, audio interface, control surface and MIDI interface. It doesn't have the onboard FX of a true digital mixer, but instead allows you to control your software mixer in addition to analog and digital inputs.
Tascam FW1082 Firewire DAW Controller
The new FW-1082 audio/MIDI interface and control surface from Tascam not only provides tons of audio and MIDI I/O to small studios, but offers a control surface with moving faders for a previously unheard-of price. The FW-1082 features 10 inputs, including four balanced XLR mic inputs with phantom power. Tweak: An excellent choice
Digidesign Digi 003 Factory FireWire Music Production System

With an extensive range of features such as 8 channels of simultaneous recording and MIDI I/O, high-definition audio resolution, the creativity and speed of industry-standard Pro Tools software, FireWire connectivity, and a big, comprehensive bundle of powerful software included free, the 003 enables you to attain the same high audio production quality as commercial facilities in your own personal or project studio.
Digidesign Digi 003 Rack Music Production System

The 003 Rack offers an extensive range of features such as 8 channels of simultaneous recording and MIDI I/O, making it the ideal hub of any home or project studio. By using the creativity and speed of industry-standard Pro Tools software, FireWire connectivity plus the powerful software included free, you have the tools to create your music with the same high quality as commercial facilities.
Tweak: Digidesign audio interfaces are designed to run Pro Tools LE. They may also be used with other sequencers, but there could be issues and reduced functionality. Also, digi systems do have stringent requirements, so make sure you read them at www.digidesign.com
Mark of the Unicorn (MOTU) 896mk3 Firewire Audio Interface
The all new 896mk3 FireWire audio interface delivers high-end performance, superb sound, innovative new features and enhanced standard features that remain unique. The 896mk3 provides eight channels of pristine 24-bit 192 kHz analog recording and playback, combined with sixteen channels of optical digital I/O, stereo AES/EBU, S/PDIF and separate analog main outs. Expand your system by connecting the 8pre mic input expander or other MOTU audio interfaces.

Preamps on Audio Interfaces
Many audio interfaces have "combo" jacks which can accept both XLR mic and 1/4" instrument plugs from guitars, basses and other instruments. Keyboards usually use "line" level inputs.
The Mic preamp is one of the most expensive components on the audio interface, which is why some do not have them, figuring you'll add your own via a mixer or by stand alone preamps. How good are they? Of course it varies. The preamps on the cheapest audio interfaces are not as good as common mixer preamps. They may lack the gain to drive some microphones, but usually work fine with common condenser mics. As you move up in the range of over $400 interfaces the preamps also improve. For example with my two interfaces, the Motu 828mk2 and the Emu 1820m, I'd rather use those preamps than those on my Mackie 1402 VLZ Pro, but it will be hard for me to tell the difference. They will all sound "very good". But if I plug in my Focusrite Voicemaster Pro preamp, there is finally some noticeable improvement. If I plug in my premium Great River preamp there is a huge sparkling difference. Moral of the story: Don't get too hung up on comparing audio interface preamps in the sub $400 range. Like converters, when you are really ready for pro quality, you get a professional preamp. There is no shortcut. You can always add preamps and converters, but you might not be able to add more inputs and outputs, and if the drivers are crapping out on your system, you're going to have a hard time making music even with the best converters and preamps.
For those who need a lot of preamps on their audio interface, consider the FireStudio Project, the Presonus FireStudio, the MOTU 896Mk3 which all have 8 preamps, or consider the mixer/audio interface solutions like the Mackie Onyx 1640i with 16 preamps. If you have an audio interface with ADAT i/o you can add an 8 channel preamp easily.
OK! You there? We just finished talking about the components of the audio interface. Now lets move on to the form factor of the device, which leads us to the thorny debate over USB, Firewire and PCI. Don't worry, we'll get you through this quickly.
Options: PCI, Firewire, USB 2.0, Cardbus, USB 1.1
If you are using PC software, get a desktop system. If running Mac software, the Mac desktops do it best. If it has to be a laptop, get a Mac. If it has to be a PC laptop, do firewire, USB 2.0, or a cardbus. Or consider using onboard sound with various adapters and connecting a small preamp to the line inputs.
USB 1.1
Perhaps the most well-known USB 1.1 interface is the MBox2, which runs Pro Tools LE. If you want to run that, make sure your laptop meets or exceeds Digidesign qualifications, which you can find at the Digidesign site. There is the M-audio Mobile Pre and Fast track Pro USB interfaces.
The Mbox2 is a USB 1.1 interface designed to run Pro Tools LE. There is also an Mbox2 Pro that is firewire (and more expensive)
USB2.0
The newer form of USB, based on the 2.0 spec, is theoretically capable of slightly exceeding the speeds and throughput of firewire, so USB2.0 devices can make good solutions for laptops or desktops that sport a USB 2.0 interface. They may also be used with the more recent MacBooks that have dropped the firewire interface.
There is a huge world of difference between USB 1.1 and 2.0. Never confuse the two; it's night and day difference in terms of performance. Also never assume an interface is USB 2.0 unless it specifically says it is. If it just says "USB", then assume it is 1.1. Believe me, if it was 2.0, they would tell you. There are not that many USB 2.0 interfaces out, though it is changing. Some notable USB2.0 interfaces are the Tascam US122l and Tascam US144. One value that is rather incredible in the Tascam US1641. There is also a version of the MOTU 828mk2 that is USB 2.0 instead of Firewire. Newer to the scene are the Emu 0404 and 0202. Another excellent value are the Alesis multimix units. But be careful, there are USB 1.1 and USB 2.0 version of the multimix interface/mixers. Make sure to get the USB 2.0 versions. Check out the MultiMix8 USB2.0 and the MultiMix 16 USB2.0
CardBus
Cardbus solutions are for laptops. One way is to get an RME Cardbus solution. The Cardbus connects via a typical Firewire IEEE1394 cable to a breakout box such as the RME Multiface. Because the Multiface handles most of the processing, the CPU's burden is eased and good performance is possible. Read more at RME's website. Emu has released the 1616 laptop audio interface. If you have it, give us a shout at studio-central. Tell us what's up. There are other cardbus solutions. The question I would ask before going with a Cardbus solution is simple: Why get this rather than firewire?

PCI and PCIe
PCI (and PCIe for those with late model desktop Macs) interfaces are for desktop systems, not for laptops. Lynx, RME and MOTU on the pro end. Emu's desktop series, M-audio's Delta series, and the Echo series are all respectable. On the inexpensive side the emu 1212M and M-audio 2496 are known performers. My personal pick for the PC, that balances features and price was the Emu 1820M. But since those are no longer available, check out the PCI version of the Emu 1616M. Note to use a PCI card you have to have an open PCI slot on your computer. While I know that seems obvious, these days computers are sold without PCI slots. So check!
The Mac Pro will accept PCIe interfaces like the MOTU 24io, and the 2408mk3
Firewire
Good for laptops or desktops. Motu has released the Traveler Mk3, a portable, but full featured audio interface. You can actually power the thing from the firewire port itself, or by battery power, which is good for recording on the road. Heh, you could record "Rocky Mountain High" high in the Rockies at last!
Need something small? Check out the Presonus Firebox. The Firebox can also be powered off the FW bus. More upscale, the MOTU Ultralite and the Focusrite Saffire A bit older, the M-audio Firewire 1814, Firewire 410 Edirol FA101 and the inexpensive Firewire Audiophile 2496 and Firewire Solo. I really like the Firestudio Mobile.
Wanna have a big interface to go with your laptop or desktop computer? You can run the control surface/interface combos such as the project mix, Digi 002, Tascam FW1884 or the Mixers with built in and add on firewire interfaces like the Onyx mixers and the Allen and Heath FW Mixer. I'll talk about the firewire mixers on the Mixers page.
My personal pick that balances plenty of features with a reasonable price would be the MOTU 828mk3 for either the PPC Macs or the Intel-based Macs. For the PC, if I were buying today, Dec 6, 2009, I would get a RME Fireface for a PC and an Apogee Ensemble for a Mac
Pros and Cons
Aren't PCI cards "old tech?"
Of course an old PCI card is old, and there are thousands out there, but they should all be avoided in a modern machine. It was probably built for an older operating system, older PCI data busses and older CPUs. However, modern PCI cards are the fastest audio devices on the planet, faster than Firewire, USB2, and of course USB 1.1. You can slam more audio data through a PCI card than any of the above. With an excellent driver PCI can outperform the rest. This does not mean that a consumer PCI is "better" than a Firewire interface.
Remember, drivers and DACs are the critical variables. It does mean that a well heeled PCI interface and breakout box will be able, generally speaking, to outperform a similarly well-heeled Firewire interface. However, PCI has some pitfalls. You have to open the computer and place it in a "good" slot. Not all PCI slots in a PC are created equal. Some share resources with other slots. Sometimes a PCI video card in the machine interferes with proper operation. Sometimes you have to re-arrange the cards till you find the slot where the card works better. Getting a headache with all these "sometimes, this, sometimes that". Yeah, sometimes its a pain! :) Especially if you are on Win 98 or (gasp) Win ME. And sometimes it just works perfect the first time. Generally, the more modern the computer and OS, the more modern the PCI card, the less troubles you will have. Once correctly installed and driver parameters tweaked in your application, the PCI soundcard or audio interface will be rock solid reliable, fast, and be able to spit out audio tracks in great number.
Who Really needs a PCI interface?
Those who really need to consider PCI are those with high demand for simultaneous tracks, like when you record with 24 inputs running at once to 24 tracks in the DAW. Those studio folks might try out a MOTU 24io and a MOTU2408 Mk3. (which now comes in PCI and PCIe versions). Add those two together and you have the basis for a mammoth recording studio that can add large automated mixers, 24 track multi-track recorders, all seamlessly integrated with your DAW (computer). See my comparison chart of 23 different PCI interfaces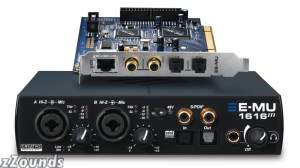 Emu 1616M PCI Digital Audio System
Is Firewire Better?
There is no doubt that firewire is easier to install. Given of course that your computer has a firewire port. You can install a firewire interface on a pre-firewire computer if you add a PCI firewire card. However, some older computers may not have fast enough data busses on their motherboards for it. If your computer already has a firewire port generally speaking you should be OK. A good firewire interface will offer plenty of tracks to do serious work, almost as many as PCI, with less hassle. With good DACs and Drivers, the Firewire interface is a great way to go. See my comparison chart of 59 different firewire audio interfaces.
You might be thinking that because PCI can carry more data that it's "better". I've used firewire several years and have never hit the wall, even with some songs getting up to 60-70 tracks. My CPU runs out of gas before the firewire bus is maxed.
I am thinking that manufacturers will soon be coming out with great new firewire interfaces that will snap right into your computer enter into the advanced realm of digital recording, with onboard DSP effects cards, and possibly DVDR and hard drive storage. We already have seen great units like the Project Mix and Tascam's FW1884, the Digi 003, and now Mackie and Alesis have firewire interfaces on some of their mixers. And lets not forget the Tascam DM3200--a massive 48 ch digital mixer--can now connect 24 of its channels to a DAW over firewire. The future is bright. But so is the present. For today's intermediate and advanced users, Firewire is ready today. Unlike USB 1.1, its a great solution for a home recording studio.
Why don't you seem to like USB 1.1 interfaces? A little story for you
Answer: Because I don't want people to rush into these blindly. Consider the user who is in a hurry, reads this article and rushes to buy a USB solution. They try it out and it doesn't work so well. Then they are mad. And I have to watch on my forums as the tragedy unfolds over and over. Here goes--the typical newb, talking to his simple brain thinks, "dude, I need something simple" and then "Wow, I don't even have to open the computer!". Yes USB is simple alright. But wait. Then they plug it in and wonder why everything sounds "slowed and scratchy". They read the manual, realize they installed the drivers wrong and now have to go through a tedious manual uninstall. They reinstall and it still won't work. So they update drivers. Nope, no workie! Call tech support. No answer.
Uninstall, reinstall, over and over and it 5am on Monday morning and they have to go to work! Then they show up on the forums, mad, confused, tired, screaming. Now does it make sense why I will not recommend a USB audio interface? The point the newb probably missed is that Motherboards require USB drivers and some older motherboards cannot cope with the demands of a USB audio interface. Duh. What started as simple plug N play ended up a motherboard swap, the hardest upgrade one can do to a PC. So much for something simple.
Of course, this is an example of someone using an older computer. I am really not trying to get you to avoid USB 1.1 solutions, I am just asking that you be a little more careful. The more stuff you hang on USB 1.1, the greater the likelihood of clogging the bandwidth even if it has a great driver. Go ahead, go USB if you have done your homework. Macs, for some reason, seem to have a better time of it with USB. But in all cases, expect lower track counts, higher latency (higher is bad) and glitches when you push the thing hard.
Which Laptop?
Besides, who wants to unplug their audio interface? People using laptops? Yep! But that brings up another thorny issue. Can your laptop, with its slower drives and compromised CPU deal with multi-channel audio? There are plenty of horror stories. I used to be at the point where I would not recommend a laptop for serious audio work with the exception of a Mac laptop, like the MacBook and MacBook Pro. Those are good to go. But for the PC, well, read on....
A few years ago Cakewalk was recommending that laptops not be used for running Sonar. And its not just a Sonar problem, but any application that has to sync midi to audio tracks in real time. Its really not the audio tracks that are the problem; its the software instruments. The CPU has to create them, tweak them and convert them to audio in real time.
With cheap PC laptops and a cheap USB 1.1 interface you can get in double trouble. The slow and narrow pipeline for data, when paired with slow hard drives and weak CPUs just gasp and give up, sometimes after only a handful (i.e., two) of tracks. This can lead to days of tweaking Window's settings, driver settings, buying faster firewire drives, upgrading RAM, an expensive nightmare where you are putting out more and more money, stabbing in the dark. If you get out alive, let me know. Funny, huh? No it is not. The sad thing is, despite weeks, even months of troubleshooting, you might never uncover the problem. Its laptop hell. People get burned, daily.
But its not all PC laptops. Some are actually very good (these are not cheap); some are mediocre but usable and some are nightmares. How can you tell? Advanced research and study before you buy is required. Just don't dupe yourself into thinking any new laptop will work for multi-channel audio. But as laptops get faster, with better drives, its starting to finally get better. I truly hope these will end this nightmare chapter.
So what the heck do you do if you have a laptop? There are USB, USB 2.0, Firewire and Cardbus solutions. I prefer Firewire. It's simple, there's no messy card, just one cable, and its almost as powerful as PCI interfaces. Save USB for stuff you do unplug, like cameras. My opinion, go with Firewire. OK, you want raw advice? What would I get on a limited budget? This one On Macbook(pro), MOTU Ultralite if you can swing it.
Lets take a Break
Ok, by now you might have more questions than you did before you started reading. That's because you are starting to see the issues as they are. Now turn the page, see the charts, then I'll do some answers to common questions about soundcards and audio interfaces.

---
Soundcards and Interfaces 1 2 3 4 5 6
On to the Next Page
Go to the Previous class
SoundCards and
Audio Interfaces
Audio Interfaces- Page 1
Audio Interfaces--Page 2
Firewire Audio Interface Chart-Page 3
PCI Audio Interface Chart-Page 4
USB 2.0 Audio Interface Chart--Page 5
Audio Interfaces- Page 6
Audio Interfaces: The Best of the Low Cost
Audio Interfaces for your Mac
MOTU 896Mk3 Review
MOTU 828mk2 Review
MOTU UltraLite
Emu1820M
Delta 1010
Audio Interfaces Prices