Delivering a next-generation audio production environment for audio post, studio production and live recording, Nuendo 4 empowers audio professionals by elevating creativity and productivity to new heights

Steinberg Cubase 5 Recording Software (Macintosh and Windows)
Cubase 5 - Absolute cutting edge in digital audio workstations! Featuring fully integrated tools for working with loops, beats and vocals, such as LoopMash and VariAudio, Cubase 5 combines new composition features and the first VST3 convolution reverb to take musical creativity to new heights. Cubase 5 is an advanced music production system With stunning innovations and additional enhancements that boost productivity and performance.
Cakewalk SONAR Producer Recording Software (Windows)
Sonar 8.5 Producer gives you what you need for recording, composing, editing, mixing, and mastering. Get innovations that matter, from exclusive features to ignite creativity and perfect your tracks, to groundbreaking technologies that always keep you in control, all backed by the industry's leading 64-bit audio quality. And Sonar 8.5 Producer delivers the go to production tools you want with the best collection of virtual instruments, mixing, and mastering effects found in any DAW.
Logic Express 8 makes it easier than ever to translate musical inspiration into professional recordings. A redesigned interface and a range of powerful, easy-to-use features put sophisticated tools at your fingertips.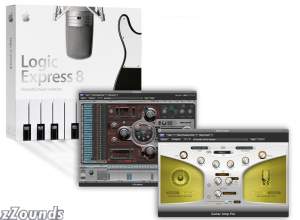 M-Audio Pro Tools M-Powered Recording Software
The M-Audio Pro Tools M Powered 8 Recording Software has the same user interface as Pro Tools HD and Pro Tools LE, all while expanding your creative hardware options to dozens of M-Audio interfaces. Session compatibility with all current versions of Pro Tools software means that you can easily move your projects between pro, project and mobile personal studios. Anyone can become a member of the Pro Tools community. Pro Tools M-Powered 8 is the serious music production choice for power, compatibility, options and ease of use without spending serious money.
Mark of the Unicorn (MOTU) Digital Performer Software (Mac)
Digital Performer 6 offers new features, enhanced operation and improved performance at all levels, from hundreds of small enhancements driven by user requests to major new features and plug-ins that add unprecedented value. Features like track comping will transform your everyday work, while industry-leading features like DP6's new Final Cut Pro integration could very well transform the way film scoring is done. If you are an existing DP user, upgrade today to discover the many enhancements you've been waiting for. If you are new to Digital Performer, there has never been a better time to try DP.