Using a Mac Pro as your DAW
under construction
Apogee Ensemble FireWire Audio Interface



Tweak

: High Quality, Logic ready
Mark of the Unicorn (MOTU) 24IO 24-Channel Audio Interface
The MOTU Audio 24I/O interface fulfills the promise of host-based hard disk recording: to record, edit, mix process, and master multi-track recording projects entirely inside the computer. It provides 24 high quality, 24-bit/96kHz analog inputs and outputs in a cost effective, single rack space package, allowing you to connect and record from 24 simultaneous analog sources.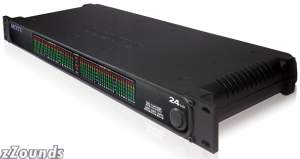 You should know a little about me by now. My first computer was a Tandy TRS80 which only made bleeps as audio. The Commodore 64 had a sound chip inside and actually did 8 bit music. Huge improvement! My next was an Atari ST 1040 STE that ran an application called Notator (which today is called Logic, by the way) that could do multi-channel MIDI (not audio!). After my Atari Mega ST2 died, I went PC with a Dell 486DX. It did 4 tracks of audio! and had color video. Various PCs followed for the next 8 years, each time I got more tracks, more effects, more CPU power. 5 years ago I went Mac. A Mac G5 took me into the realm of being totally mixerless. Finally, last month I put down the plastic for Mac Pro 2.66 8-core with the new Intel Nehalem processors. And I am here to tell you about it.
The Mac Pro is like having a supercomputer. You can hook up as many as 8 large video monitors to it, and can add multiple terabytes of storage into 4 hard drive slots. You can put in as much as 32 GB of memory and can put in 16 GB relatively inexpensively. You can easily run multiple applications on a Mac pro with almost no worry of ever running out of resources. Given that your sequencer can take advantage of the multiple cores, you will find that is its difficult to overload the CPU.
Some people think that a Mac pro is "overkill" for audio/midi applications. To some extent they are correct. If you are only recording 8-24 audio tracks in a song any of the lesser Macs will do the job, including my old G5. The rub comes in with audio plugins and software synthesizers, particularly plugins that can act as a soft synth "host within a host", like Kore 2 inside Logic 8. This combination is so CPU intensive I can make the new Mac pro blink and stutter. But this is probably because of the coding in Kore2, which on my system does not take advantage of the 8 cores. But with Logic, filled with 50 tracks, tons of plugins and effects, the CPU meter stays low in the 25%-35% range, even at the most demanding peak of the song.
Apple Mac Pro MB871LL/A Desktop
Today's Mac Pro (Spring 2009 release) features Intel's latest Nehalem dual core processors, of which there are 2 or 4, depending on the model you get.
When I was about to purchase my system, I became a benchmark freak overnight, comparing the specs of the different Mac Pro offerings. The difference between the 2.24 vs 2.66 vs the 2.92 vs the older 2.8 and 3.2 8 core Mac pros. Then there is the 4 core vs 8 core decision. After the sale I am confident I would have been happy with -any- of the choices. i chose the 2.66 8 core because i did not want to be limited in the future to 8 GB of RAM when the industry moves to higher memory applications. I am into this Mac Pro for the long haul. For me, this DAW is going to have to go at least 5 years, so I want to feel it is still a powerful machine on Year 5.
My system:
Mac Pro 2.66 8 core 16 GB memory 3 TB storage
2 PCIe Nvidia Video cards
Audio: Motu 828mk2 (soon to be replaced)
MIDI: Unitor 8 Mk2 and AMT 8 (8x8 midi itnerfaces)
UAD2 Solo PCIe card
Monitors: Apple 30" Cinema, 23" Cinema, LG 25.5" Monitor, Samsung 24" Monitor
Controller: Novation ReMOTE 37 SL, Mackie Control
Sequencers: Logic 8 Pro, Cubase 5
Threads
Tweak's Mac Pro is Up! Upgrade Notes
Links
Cool Quote
Life is like riding a bicycle. To keep your balance you must keep moving.
Albert Einstein
Other Articles on Sequencers by Tweak
Sequencers and DAWS Index
Review of Cubase 5
Logic Studio 9
Pro Tools LE 8.1
Logic Studio 8
Review of Sonar
Review of Reason
Reason (1st review)
Ableton Live
Logic Pro 7
Logic Pro 6
Logic Platinum 6
Logic Platinum 5
Digital Performer
GarageBand
Sony's Acid
Vintage Sequencers
Early History of Logic
Mac vs PC for Music?
Project 5
Sequencer City!
Cubase SX (original)
Cubase SX3
Using a Mac Pro as your DAW
Using Notebooks as your DAW
Which Sequencer is Best?
MIDI Time Code and Sync Issues
Custom Bank Select Methods in Logic
Write a Sonar Instrument Definition File
Sequencers Price List
zZounds Sequencer Store